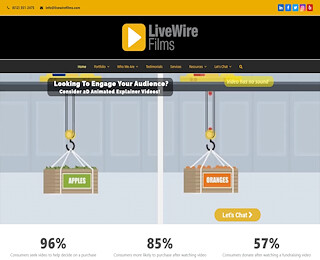 Video provokes immediate reactions, it makes people emotional, and it has a high viral potential. To experience the full range of benefits from such a campaign; however, you'll have to partner up with a solid corporate video production Minneapolis team.
LiveWire Films is one such team that will help you make the most of every single clip.
Why Corporate Video, Why LiveWite Films?
A good corporate video production Minneapolis team will help you get more bang for your buck.
The LiveWire Films team has been around since 2012, executing many different campaigns. From working with non-profits to partnering up with large corporations, we know what it takes to make every single campaign effective.
Together, we'll figure out your audience profile and how to reach these people. Remember that personalization and provoking an emotional response are the two keys to seeing results. Figuring out who we're talking to and building a strategic marketing campaign based on this data will help your business grow.
Video marketing is the advertising approach of the future. It can be used to accomplish just about every marketing goal under the sun. Whether you want to increase brand recognition or reach a new market, you can use corporate video to achieve the target.
Having a corporate video on your website boosts engagement, it makes people spend more time exploring your pages, it increases the effectiveness of your social media marketing efforts, and it's good for search engine optimization (SEO). The list of benefits goes on and on.
Corporate Video: A Cost-Efficient Advertising Solution
Professional corporate video production is suitable for startups, medium-sized companies, and large corporations. It's a budget-friendly advertising approach that delivers a high return on investment.
Even if you're not sure that your business can afford it, you should give us a call. The LiveWire Films team is committed to working with clients on personalization and offering a solution that's tailored to the customer's specific needs.
Contact Us Today!
We want to help your business grow and we know one thing - video promotion is the technique of the future. Jumping on the bandwagon right now will help you establish your company's position and reap a full range of benefits.
Give us a call right now, ask us your questions or request a quote. We'll be more than happy to answer your questions and create a strategy that's just right for the needs of your business.
Corporate Video Production Minneapolis
LiveWire Films
612-351-2476
190 River Ridge Cir S, Studio 120, Burnsville, MN 55337
View Larger Map