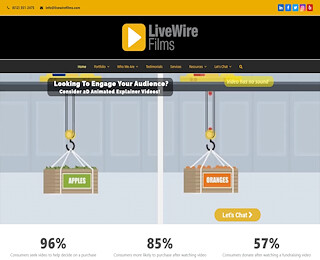 Here are some of the advantages you can expect from enlisting the services of video marketing experts.
Achieve A Professional Looking Video
Production companies have a well-trained staff that can provide your business with a professional looking video. Instead of spending money on hiring freelancers or amateurs for your video marketing campaigns, experts that have unmatched experience in video creation and hosting will give you way better results.
More Cost-Effective
It may seem that hiring professional help will cost a company more, but it is a better investment for you to hire outside help. Instead of purchasing very expensive equipment and adding more staff members to the payroll, hiring a production company is more practical, especially if you won't use the material much and the staff is just there if you need videos. Besides, producing videos is the company's specialty, so you're always guaranteed incredible output every single time.
Fresh Perspectives
Sometimes, amateurs can run out of ideas when doing a video. Concepts, designs, and layouts can look repetitive over time. If you want to provide your audience with videos that contain the latest trends, production companies like LiveWire Films can help you with your needs.
These experts are fully committed to their work and attend workshops or training events that boost their creativity. Such training allows them to know what different kinds of audiences from different age brackets look for in a video. Through their knowledge, your video will not only be appealing to a particular group of people but will also have originality and the latest trends.
Asking for help from Minneapolis production companies like LiveWire Films will offer your business or organization a boatload of benefits. Because people are more and more interested in watching videos online, giving them a professional-looking one can make them love your brand more and connect deeper with the advocacy that you have. For cost-effective services and modern ideas, visit LiveWire Films and have a fantastic video that everyone would love to watch.
LiveWire Films
612-351-2476
190 River Ridge Cir S, Studio 120, Burnsville, MN 55337
View Larger Map