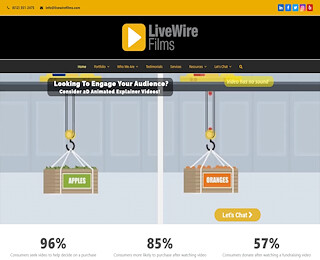 Whether you want to have a TV advertisement or a video that you can put up on your website or social media page, a Minneapolis videographer is necessary to achieve the kind of results you want. You won't only have the opportunity to reach more customers, but your video will also have a chance to get viral if it's good enough to capture the viewers.
Social media platforms are now making it possible to let videos be watched by people around the world. That is why hiring professionals such as LiveWire Films is essential if you want to achieve your goals.
However, it is a must to keep in mind that not all videos can give you positive results. If you don't hire an expert videographer for the project, you might end up having a video that contains unoriginal scripts, cliché ideas, or a poorly designed one that your target audience will not even pay attention to. LiveWire Films crew of experts are individuals who are focused on providing original videos for businesses in need of their help. If you don't want to have a dull video that will only annoy your customers instead of being inviting and enjoyable, hire only professional videographers who already have appropriate training and sufficient experience in the industry.
Capturing your target audience's attention and interest is not easy especially if your corporate videos or advertisements don't have enough creativity. If you want to achieve your goals in your project, a production company will help you break things down and address the tiniest detail of your video marketing campaign.
A Minneapolis videographer, as well as the directors, stylists, and crew, will all be assembled by production companies to provide you with a creative team for the project. These individuals have proven skills that they can use for your project. They will be in charge of the music, editing software, lighting, and other resources or equipment you need. Through their help, you won't have to get stressed out making videos by yourself.
Having a good video for your business is essential to market your products and services to people from all over the world. It might have been impossible before to reach people overseas, but today it is possible to let your company's name be known worldwide with a professionally made video. The LiveWire Films team can give you excellent videos that everyone will love. Start investing in a professional production company now and see your conversions shoot through the roof.
LiveWire Films
612-351-2476
190 River Ridge Cir S, Studio 120, Burnsville, MN 55337
View Larger Map