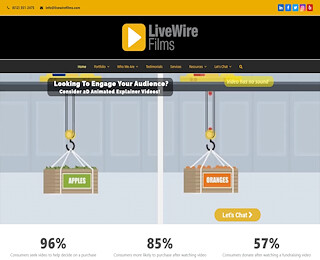 All About Telling A Great Story: Non-Profit Film Production Company
While facts and contact information are important, at the end of the day everyone loves a good story. This is why professional Twin Cities video production services like LiveWire focus on how to tell the story of your non-profit in a way that is intriguing, engaging, and leaves viewers wanting to know even more!
Being able to tell a vivid and engaging story is crucial to succeeding as a non-profit film production company, and this is part of the reason LiveWire is so dedicated to telling a compelling and concise story - because this will be the backbone of a great non-profit video, every time!
Outstanding Results At A Reasonable Price
One common knock on many non-profit videos is how poorly made they are, or you can see the DIY efforts that cut so many corners when they shouldn't have. A professional video makes a huge positive impact for non-profit organizations because a better video tells a more beautiful story and thus will be more likely to create a "take action" reaction towards your cause or organization.
When you talk to LiveWire, you'll see options for truly professional and outstanding videos getting made at prices that are very reasonable considering the high-quality results that you are receiving in return. Don't underestimate the importance not only of video but how the clarity and overall format of video can make all the difference.
In Conclusion
When you're in search of a quality non-profit film production company that will help you produce outstanding videos that teach your message, spread your influence, and even motivate visitors to become active for your cause. At the end that is the best possible result you can get whether in the form of a monetary donation or volunteer services.
Contact us today to talk about setting up video for you and your cause.
Non Profit Film Production Company
LiveWire Films
612-351-2476
190 River Ridge Cir S, Studio 120, Burnsville, MN 55337
View Larger Map