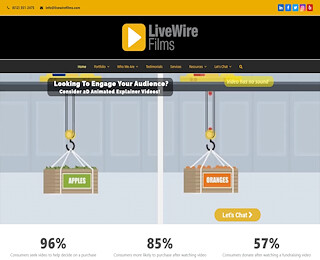 LiveWire is a leading non-profit video production company. We handle various aspects of video production for businesses, non-profit organizations, and everything in between. Some of the services we provide include voiceovers, non-profit video production, commercial video production, and video hosting. How could these services benefit your growing organization?
Saving Time.
Every minute counts when you are managing a non-profit organization. The time it takes to produce a video can be substantial. That's wasted time where your message is growing cold and forgotten. For a non-profit to be successful, it has to remain in the spotlight for as long as possible. That means a constant stream of marketing material. And video content is by far the most compelling marketing content available.
It's not just a matter of putting the video online faster, but also what you could be accomplishing during that time. If you are tied down with the production of the video, then other work you could be doing for the organization is going to fall to the wayside. The video will eventually provide some benefit, but everything else has suffered in the meantime.
A Professional Quality.
Though many business owners take pride in their video production skills, videos of the highest quality always come from professional production companies. After all, that is their life's work. Professionals who work for LiveWire Films are professionals trained and educated in the art of video production and the many elements it includes.
When managing a non-profit, you want a high-quality, professional video to attract attention. This is the best way to ensure that people take your message serious. If they don't take your message seriously, then they won't feel inclined to support it. Several non-profit organizations have failed for this very reason.
You Need Videos.
There's no denying that your organization needs videos to survive in this digital era. But not just any video will do. Get professional quality videos delivered on time from a non-profit video production company like LiveWire Films. It's a small investment to make to secure the future of your growing organization and the cause that it supports.
LiveWire Films
612-351-2476
190 River Ridge Cir S, Studio 120, Burnsville, MN 55337
View Larger Map