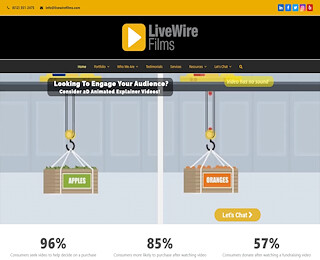 There are many options when it comes to finding Twin Cities video production specialists, but let's face it: not all companies are equally talented or provide the same level of service. There's a huge difference just between a local average producer and an above average video production service, much less the difference between C-quality average work and A top of the line video work. When you need top of the line video work done for a special project, you should turn to the professionals at LiveWire Films to get you video that absolutely pops and delivers your intended message to an audience in a way that will stick with them and drive your point home.
Why Use Local Video Production
When it comes to Twin Cities video production, LiveWire Films knows how important it is to connect with local businesses in order to get the best possible work done. When you see a business as local people that include your neighbors, fellow business owners, and friends that make up the community you not only work in but which you also call home. We never treat you like another number, but understand the importance of making your dreams ours to give you the best possible project each and every single time.
We understand the importance of reputation and strive to deliver above and beyond even the largest expectations.
Providing A Wide Range Of Video Services
Do you know what type of video you're most interested in for your next project? Are you looking for a conventional business video or something that is more appropriate for a proper non-profit fundraiser? This is an important consideration whenever you are looking for the perfect video professionals. Some companies only focus on one or two specific niches within video, while others have full teams dedicated to providing you the absolute best options available in all genre of video.
LiveWire handles:
- Professionally shot business videos
- Non-profit videos
- Professionally narrated voiceover videos
- Full video hosting services
In Conclusion
There are many options when it comes to Twin Cities video production options. While you always want to ask around for word of mouth recommendations and do your online research, it will quickly become apparent why LiveWire enjoys a reputation as being one of the best providers you can find in Minneapolis or St. Paul. When good just isn't good enough, LiveWire is there to step up your video marketing game.
Twin Cities Video Production
LiveWire Films
612-351-2476
190 River Ridge Cir S, Studio 120, Burnsville, MN 55337
View Larger Map