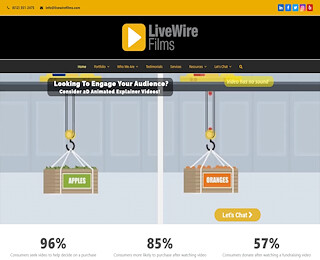 Professional video production Minneapolis will help you differentiate your campaign from everything that competitors have to offer. The LiveWire Films team is here to guide you through the process and help you put together the best possible films and video clips.
The Benefits of Professional Video Production are Many
There are several important reasons why professional video production makes sense. The key benefits you'll get to enjoy are the following:
- Establish the right kind of image for your brand: a professional, polished video shows that you're a perfectionist. It presents your brand in the right light and helps you establish yourself as the authority in the respective field.
- Reach and engage new clients: Video has a massive potential to go viral, especially when it's been done professionally. The idea, the execution, and the editing all matter. The LiveWire Films team will adopt the approach that's just right for your brand, helping you reach the right group of qualified leads, maximize online exposure and potentially turn these individuals into customers.
- Benefit from a cost-efficient marketing approach: professional video production Minneapolis is affordable, even if you're a startup or a non-profit owner. Benefiting from our professional experience will be attainable, not to mention the fact that it will bring a high return on investment.
Why Choose Us
The next question we have to answer is why we're the right team for the job. With so many companies offering such services in Minneapolis, it may be a bit difficult to make up your mind. Still, here are some of the features that make us much better than the competition:
- A full range of services: if you choose us for your project, you'll get a full range of services. We specialize in the fields of business video production, NPO videos, voiceover services, professional video hosting and video consulting.
- Strategic video production: we don't just give clients access to a range of video production services. We partner up with them to choose the strategic approach that's going to deliver the best results.
- We have a lot of experience: Allianz, Habitat for Humanity, University of Minnesota, Wagner and Bremer Bank are just some of the clients that we've partnered up with.
We can't wait to learn more about your business and the campaign that you're putting together. Don't hesitate to contact us today and request a quote.
Video Production Minneapolis
LiveWire Films
612-351-2476
190 River Ridge Cir S, Studio 120, Burnsville, MN 55337
View Larger Map