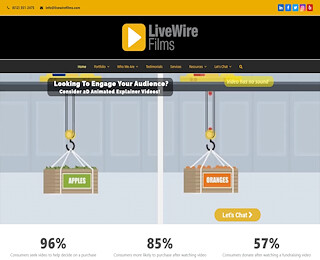 LiveWire Films can provide you access to a video studio for rent that can serve you, read below and use these guidelines. From there, you will be able to feel great about touching base to book some studio time.
Storytelling is our Specialty
Anyone can make a video, but it takes true mastery to tell a story. Storytelling is the most crucial thing you can be doing online right now regarding making the most of your marketing. A quick glimpse at our video reel shows you that we are not one trick ponies and help our clients add personality to any project that they need. Because we have green screen technology, you'll be able to make any vision a reality, as the sky is the limit when it comes to our post-production capability.
We Provide Services For People in All Fields
If you take a look at our client list, it is clear that we get business from all over. For instance, we can help nonprofit organizations such as Habitat for Humanity one day, and retail giant Target the next day. We understand what it takes to capture a vision that engages with people, and will gladly do this in a way that makes sense for you. Marketing is crucial, and the internet has opened the door for greater accessibility, so investing in our video services can be the leg up that you need to take your company to new levels.
Our Rates Are Fair And Consistent
We charge by the half day and by the day. A half day booking will cost $300, while an entire day booking will cost $450. We also charge by the hour if you end up going over any of these times. The extra hour rate is $75 each.
Take advantage of these tips so that you can reach out to LiveWire Films to see exactly what we can do for you.
LiveWire Films
612-351-2476
190 River Ridge Cir S, Studio 120, Burnsville, MN 55337
View Larger Map