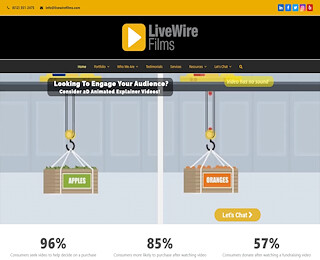 If you work in any field and want access to the best multimedia solutions to grow your brand and reach your public, read these points below to learn more about what we do.
What types of services do you offer?
We do a little bit of everything! Business videos are a strong suit, and we will help you create the message that will bring in more people. In today's marketing climate, search engine optimization is about more than just sprinkling a few keywords. You need high quality, high definition video that grabs people to make them want to take action.
We specialize in it all - from voiceovers and nonprofit video to video hosting services.
What kind of clients do you work with?
We work with all sorts of clients in many different industries. For example, organizations like the University of Minnesota, Habitat for Humanity and Target have gotten great services from us. We treat all of our clients the same and will give professionalism and service that is unparalleled, regardless of what sort of project you have in mind. People who have used our production services and our studio rental facilities have written glowing reviews.
What are your rates?
If you want to make sure that you are getting our great services, you need to be aware of our rates. For example, we offer pricing packages for entire day rentals for $450. If you are more inclined to book a half-day rate, the price is $300. Further, each additional studio hour is $75.
Reach out to us to let us know a little bit about your project, and we will be happy to accommodate you with a fair price.
So what are you waiting for? If these points sound great to you, make sure that you reach out to us the next time you have a need for a video studio rental. Our home is your home, and you will be able to create excellence when you use our facilities.
CLICK HERE FOR MORE DETAILS AND TO BOOK YOUR TIME TODAY
Video Studio Rental
LiveWire Films
612-351-2476
190 River Ridge Cir S, Studio 120, Burnsville, MN 55337
View Larger Map