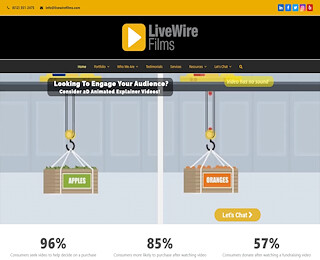 Because of this, we know that we have what it takes to get your company out into the public eye in the best possible way. With this in mind, you need to know the main benefits of why are the best at our craft. To take in these benefits, read on and do not hesitate to contact us with questions.
Benefit #1: Our reputation precedes us
People look to us any time they need marketing video that counts. A quick glimpse into our reviews show that people give rave reviews regarding our ability to capture footage, the level of equipment that we offer, creative ideas and so much more. Best of all, we do all of this with a friendly smile and with the passion that has launched us to the forefront of the industry. There is a great reason why companies like Target rely on us when they need video content.
Benefit #2: We have the best facilities and offer stellar service
Every facet of our studio is kept clean and top-notch. Whether you need a quick rental or need to book multiple days, you will be given access to all that we have to offer.
Benefit #3: We charge fair prices
While we take pride in our services, we truly take pride in being accessible to everyone thanks to fair pricing structures. For instance, you can get a FULL day booking for just $450. You can get a four-hour booking for $300. If you need any additional hours outside of these time frames, it will cost you $75 per hour. We will be happy to work with you and provide you these great rates.
There is a great reason that people turn to us when they need green screen studio rentals. These three benefits illustrate why we are a great resource for your needs. Consider these benefits and touch base with us to get started today.
CLICK HERE FOR MORE DETAILS AND TO BOOK YOUR TIME TODAY
Green Screen Rental
LiveWire Films
612-351-2476
190 River Ridge Cir S, Studio 120, Burnsville, MN 55337
View Larger Map