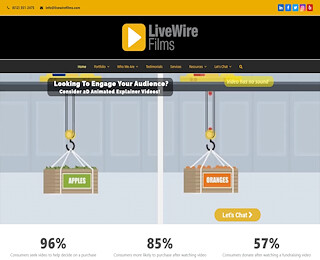 Looking At The Benefits Of A High-Quality Minneapolis Video Production Team
While Hollywood and new York City might be cities known for being in the movie business, most companies don't need a blockbuster film or a video production company running up the charges like one. The good news is that when it comes to Minneapolis video production, several providers in the area know their stuff and can provide the type of video services that are useful to local area businesses. The question then becomes: how do you find the one that's right for you? What are the right questions to ask or the right recommendations to follow?
Read on to find out!
Specialized Niche Or General Professionals?
One of the first things to look at is the type of video you want to be done. This could be referring to style, intent, or to a combination of both. There are plenty of options when looking at Minneapolis video production companies, but there is also a huge difference between providers, as well.
Some professional services show they take care of about anything a business or non-profit could want or need when it comes to creating stunning original videos such as LiveWire Films, while others take a very narrow focus on only look at a couple of very specific things, such as only doing cartoon videos or voiceover work.
What Do Their Reviews Say?
Looking at online reviews is a good start, but don't just choose a Minneapolis video production company based on the number of stars. Unfortunately, there are many cases of false reviews (both good and bad) that could be paid, from family members apparently pushing up a business (or individuals trying to sabotage a competitor), and other issues. When you read the actual reviews, it becomes very easy to tell which is which.
This is why going in-depth with your research is so vital!
Google For News
Google is your friend when it comes to research, but don't stop at the first page! Pages two and three can be very telling. If everything on page one is positive when you search a company's name, but page two and three are loaded with stories about bad reviews, lawsuits, or other negative news, you may want to steer clear. Any business forced to consistently spend money on reputation management to get negative stories off the first page of Google is a business you should hesitate to hire.
Follow these tips and your research will eventually lead you to the perfect fit for you and your local video needs!
LiveWire Films
612-351-2476
190 River Ridge Cir S, Studio 120, Burnsville, MN 55337
View Larger Map