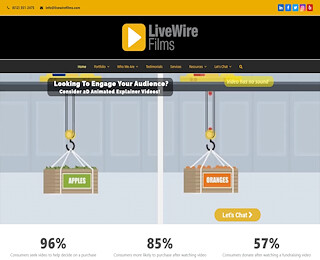 At Livewire Films, the goal is to provide world-class Minnesota video production services. There is nothing more important than a robust and intricate video being put together with attention to detail.
This company has years of experience in the industry and continues to set new standards for what is required by clients.
Trusting this team and its specialists will ensure customers are getting their video(s) produced by the best in the business.
Here is more on what makes LiveWire Films one of the finest Minnesota video production companies in the region.
Seamless
With a dedicated team, the video production requirements will be met down to the last detail. It is essential to see smooth results, and that is what this team strives for with every client. The video will look robust, crisp, and professional from start to finish.
Why go with those who are unable to provide a seamless finish? The days of choosing a rough, unedited video should be in the past, and that is where LiveWire Films comes into the equation as a viable option.

We are the perfect fit for your needs.
State-of-the-Art Equipment
Producing videos begins with talent but requires world-class equipment to see complete results.
With substantial investment in leading equipment for high-definition results, video production will be at the top of its grade when done by LiveWire Films. Clients will know their video will be handled by the best, using the finest equipment.
Modern Techniques
All techniques applied by this team for producing videos will be modern and refined.
This is a commitment provided by each and every member of the company. The goal is to go above and beyond with all techniques to seamlessly craft the ideal video. Clients will know they'll get the perfect results immediately.
Trusted
With years of experience and thousands of happy customers, LiveWire Films is an established company that continues to work hard for its clients. For those who are seeking a trusted name in the industry and want to ensure they're getting world-class results, it's time to go with this team as soon as possible.
LiveWire Films is the number one option in Minnesota for all video production needs, and it starts with a commitment to excellence. Call now to begin the process and know this team will put in the hard yards to meet all client-based needs.
The perfect video starts with a world-class team.
LiveWire Films
612-351-2476
190 River Ridge Cir S, Studio 120, Burnsville, MN 55337
View Larger Map